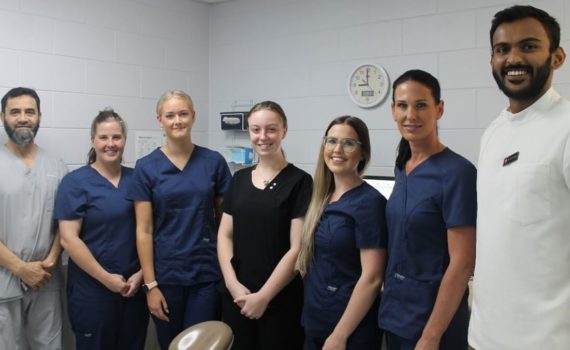 Our

Promise
Our team is lead by specialists and educators who set high ethical standards and value education and empathy within collaborative dental treatment plans. Our practitioners are invested in patient care, as members of the Royal Australasian College of Dental Surgeons, the Australian Dental Association, and even educators at the University of Queensland's School of Dentistry.
We deeply value our unique opportunity to provide both specialized and general services to the greater community, in a convenient space close to both Brisbane City and its suburbs. Our promise is to provide you with an honest and evidence-based opinion on your oral health. Once given that information, we believe that our patients have the choice to accept all, part, or none of the proposed treatment.
Our aim is to help our patients fulfill their choice and be their life-long partners  in maintaining oral health.

Advanced Technology
Our facilities enable us to provide complex procedures and therapies, including specialized root canal treatment performed under surgical operating microscope, a 3D intra oral scanner for detailed digital impressions, and our T-Scan for recording your bite and quantitative assessment of force distribution in your teeth.

Appointment
We know life gets busy - Contact one of our friendly receptionists to create an appointment tailored to your needs and schedule.
Make an Appointment

Opening Hours
Monday       : 9:00AM–5:00PM
Tuesday       : 9:00AM–5:00PM
Wednesday : 9:00AM–5:00PM
Thursday     : 9:00AM–8:00PM
Friday           : 9:00AM–5:00PM
Saturday      : 8:30AM–12:30PM (once monthly)
Sunday         : Closed
At Keperra Dental Surgery, we believe that the best dentistry is a collaborative process between the dentist and patient. Everyone's dental needs involve achieving a combination of function, aesthetics, and health. Our dentists will take the time to listen to your needs and goals to develop a personalized treatment plan, saving you time and money with effective service.
Our aim is to make your experience as pleasant and comfortable as possible, which means we value what you have to say. Our practitioners place emphasis on reflective and empathetic practice to continuously provide a calming and productive environment for your care.
We constantly ask ourselves the following questions:
Would we perform the same treatment on our family members?
Are we being fair to ourselves, our patients and our staff?
Are we building strong relationships and goodwill?
We believe in honest and transparent dentistry, and work to ensure you have all of the information you need to make decisions regarding your health. We understand feelings of anxiety and uncertainty in obtaining dental care, and prioritize your comfort as a person, not just a patient.
Your thoughts, queries and concerns are our priority. New to our practice? See our tailored New Patient information here – or contact us on (07) 3351 7388 for any support.
We are a member of the following
Organisations